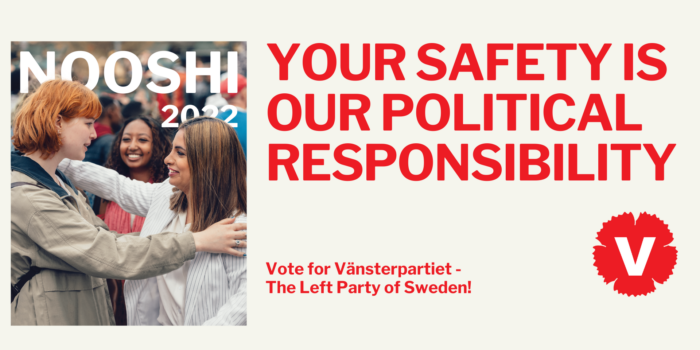 Vänsterpartiet – The Left Party of Sweden
Vänsterpartiet
(English: The Left Party of Sweden
)
Vänsterpartiet is a socialist and feminist political party in Sweden, founded in 1917 following a split from the Swedish Social Democratic Party. 
We believe in an equal society for everyone, regardless of where you live or how much money you have. We support egalitarianism, a strong labor movement, oppose privatization of the Swedish welfare system and advocate increased public expenditure.  
Our party leader is Nooshi Dadgostar and in the European Parliament we are part of the Nordic Green Left, and focus on climate justice, a humane and rights-based migration policy and feminism. 
Your safety is our political responsibility
We want to build a strong community with equal opportunity for all who wish to create a better life for themselves. 
Everyone in Sweden have the right to feel safe at home and in their neighborhoods, regardless of where they live. The deadly violence affects everyone who live close to where criminal networks are strongly rooted and today, a separate economy has been built around drug trafficking and gun violence. This needs to be stopped not only by police and customs, but also with equal opportunities of receiving a good education where no child grows up thinking that violence and crime is a valid option in life. 
Education is the foundation of equality
The Swedish school system has become an experiment of the free market. Big companies compete to turn students and public funds into profit. Children in fortunate conditions get better schooling, while those from financially restrained areas get fewer resources. We want to put an end on this. The quality of your education should not depend on where you live. We need a system with equal opportunities of receiving a good education to be the only option growing up. That is our political responsibility
Safety in all aspects in life
A safe society is something we build together where job security and a safe working environment are crucial. We need to fight discrimination in the workplace. If we get sick or unemployed, we must be able to trust the financial support system; so that we can continue to pay our bills and afford our rent. By the time we are old our pensions should be enough to cover our living expenses. Safety is also knowing that we can stall climate change, in order to leave a living planet for coming generations.
Take back control over the welfare-system
Vänsterpartiet wants to take back the democratic control over our welfare-system, housing and infrastructure like electricity, rail and other public services. Together we can overcome the challenges of climate change, reduce financial inequality and build a better future for all. Political responsibilities cannot be left for the market to be solved, nor can political responsibilities be left to individuals. 
Swedish general elections 2022
General elections will be held in Sweden on 11 September 2022 to elect the 349 members of the Riksdag. They in turn will elect the Prime Minister of Sweden. Under the constitution, regional and municipal elections will also be held on the same day. 
The right to vote
Election to the Riksdag (parliament)
you must be 18 years old no later than on election day,

 

you are a Swedish citizen, and

 

you are now, or have been, registered in the population register.

 
Election to the municipal and region assemblies
you must be 18 years old no later than on election day,

 

you are recorded in the population register as a constituent of the municipality and region and

 

you are a Swedish citizen, a citizen of another EU Member State, Iceland or Norway, or

 

you are a citizen of another country or stateless but have been recorded in the Swedish Population Register for at least three consecutive years before election day